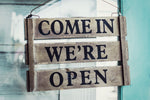 Our New Online Shop is Here!
We have a new home for our Personalized Gifts & Corporate Services!
If you are new here then welcome, and if you're a long time customer then welcome back!
The relaunch of the Studio 3300 online shop is meant to make it easier for you to order our personalized gifts online. You will find that along with some old favorites we are also offering quite a few new custom gifts. 
This blog space is new too! We are looking forward to sharing news, fun tips, and gift-giving guides to help you along the way. We know how difficult it can be to find the perfect gift for the ones you love, and we are here to help. As the holiday season approaches we will have quite a few gift guides to help make the perfect purchase.


The online shop relaunch is even more important for us now. We loved having you at our local shop picking and choosing custom gifts but at the moment the safety and health of you,our customers and our employees comes first. This new website will allow us to continue serving our customers without endangering anyone's health or peace of mind. 
Personalized Gifts
We have a wonderful range of personalized gifts you can choose from. We have things for mom, dad, the coffee drinker in your life, or even the bookworm. 
We even have fun 3D Dinosaur puzzles for the little ones in the house, or for the adults who are young at heart. Custom gifts will always put a smile on anyone's face. 
Corporate Services
We also want to clarify that our corporate services are still available and you can contact us for any questions you may have. We offer: 
Building Signs

Nameplates

Industrial Signs

Graphic Design Services

Decals & Lettering
Keep an eye on this blog in the coming weeks as we share more helpful posts and let us know what you'd like to see here!